Arcade Games & Scratch Cards
There's way more to online gambling than just the casual games like slots, blackjack or roulette. You'll also be able to play also games like monopoly for real money as well as scratch card lotteries that used to be so popular a couple of years ago! All of that is possible without actually leaving your home or even chair. All of the largest casinos are now offering a chance to play arcade games and scratch cards online and do so for real money!
Play arcade games and scratch cards for real money here!
Arcade Games are a great way to entertain yourself while having a shot at winning a pretty serious amount of money. You'll be able to take penalty shots in football while betting on whether you'll score or not as well as bet on virtual horse race. All of that above is possible at Bet365 Casino, so join now and claim your £100 welcome bonus!
Scratch Cards are great if you have a little bit of time to kill and you're bored. These games often take only a couple of seconds to determine whether you've won or not. There are plenty of themes that these are based on thus you'll surely find a fitting one for yourself. However if you really want to test your luck withal with high level of entertaiment involved the craps games are just for you
Top Games to Try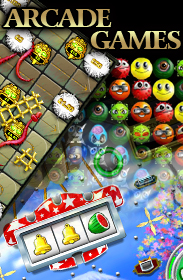 With hundreds of these types of games on the offer, one might get pretty overwhelmed with choosing one to play. Even though every player is different, we've came up with a list of 5 games that are worth trying out.
1. Goal Kick – an arcade game based on penalty kicks in football. You'll have 5 chances to take penalties and you have to score at least 3 of them to win a prize a certain amount of credits that becomes viewable after you've taken the shots. Play Goal Kick at Bet365 Casino!
2. Shoot n' Score – another arcade game based on sports. This time it's basketball and you're given 5 balls to shoot in a basket. Every time you do a shot a prize is unveiled. You win every time you score, but the amount of credits won is completely random. Of course, the more you bet, the higher your chances of winning a high amount are.
3. The X-Factor Scratch – a scratch card game created after the popular TV Show with the same title. This is a really simple game and you'll only have to decide what amount you are looking to bet and click one button to scratch off the card. Win up to 450x your wager by getting 3 matching symbols!
4. Jackpot Scratch – a progressive jackpot scratch card game developed by Net Entertainment. Scratch the 6 fields and multiply your wager 1, 2 or 10 times as well as win the progressive jackpot, which exceeds $100,000.
5. Channel Q News Time – an exciting arcade game that offers a chance to answer various questions and win credits for choosing the right answers. The questions are fairly funny for the most part and high IQ won't help to answer most of them.
Best Casinos for Scratch Cards & Arcade Games
The niche of Scratch Card and Arcade Games are still quite new, thus not all casinos offer these games or a wide range of them for sure. However, there's a couple of ones that do so we jumped into researching what every casino has on the offer and listed the Top 2 ones for playing these kinds of games.
1. Bet365 Casino – one of the most known online gambling operators in the industry. Bet365 offers a wide range of Scratch Cards, Arcade Games and more under their "Games" section. You'll find more than 50 to choose from!
2. NetBet Casino – a leading brand in the French market and one that has recently started to gain some serious popularity in the European market as well. Powered by PlayTech, NetBet Casino offers a handful of games in all types and varieties. Join NetBet Casino now!