Why HM2?

Many top features

Freely configurable

Video tutorials

Try it for 30 days
Tracking Software:
Holdem Manager 2 (HM2) is one of the best Poker tracking and analysis tool on the market. Every ambitious and professional poker player should take advantage of its extensive functionality and many useful apps that are available as addons for free.
| Holdem Manager 2 Info |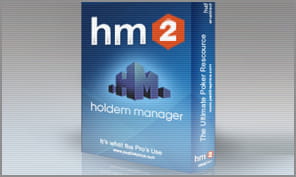 Holdem Manager 2 Review
Holdem Manager is one of the best poker games tracking software on the market. This software can be easily installed on your PC or laptop and can help you a lot thanks to the data it gathers while you enjoy playing your favourite table game. At any given time you will be able to analyse your own game as well as the game of your opponents and therefore collect valuable information. Now, the brand new Holdem Manager 2 is available with many new features, improved database structure and new analysis options. Here are some of the best improvements included in Holdem Manager 2.
Download the new Holdem Manager 2 now for free and try it for full 30 days without charge!
Holdem Manager 2 Database
The core of Holdem manager 2 is the PostgreSQL database. PostgreSQL can be found on postresql.org for free and can be downloaded at any given time. Downloading and installing the software is very easy and fast process; additionally, there are numerous step by step guides and videos that are very helpful to users who have certain installation problems. In order to be able to use Holdem Manager 2 it is necessary to have PostgreSQL on your computer. Exactly this application is the database that collects the information. The database structure is tremendously improved and the best thing is that players can import the structure of the old database using the Database Manager. Furthermore, all of the major and most popular poker rooms are supported; hence, players will most definitely gain valuable information for their poker games. However, some smaller and less popular poker rooms are not supported and the reason for this is the fact that those rooms are so small that there is no need of using Holdem Manager 2 at all. Sometimes, the installation file for PostgreSQL is provided alongside the Holdem Manager 2 installation file, whereas sometimes users have to find it by themselves.
One of the main improvements connected to the Holdem Manager 2 database is the brand new Sync option. Users get their own license key which can be used for synchronising Holdem Manager 2 database on two computers. It is really impractical and illogical to have two different databases on two different computers or laptops. However, this problem is now solved thanks to the Sync option. Users can quickly and easily choose to sync Holdem Manager 2 and the system will take care of the rest. Of course, with the help of the license key, only the user who has it will be able to gain access to Holdem Manager 2 and read the collected information. This is how HM Syinc works: every time you start the software any played poker hands will be instantly imported into the Holdem Manager Cloud. However, HUDs, Settings and Configs are not automatically synced. In any case, using the HM Sync option is very easy. Players have to create a new database and name it. Then, they have to click on the "Start sync" button and wait for the process to complete. Finally, using the second computer the user should find the desired database and once again click on the "Sync" button.
The New HM2 HUD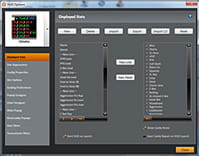 The Holdem Manager HUD, or also known as heads up display, is one of the main features of the software. Therefore, much attention was paid in revising and improving the old HUD and implementing the changes into Holdem Manager 2. For starters, the number of tracked statistics was doubled and now users can check over 500 different values. The overall design of the HUD and the pop-up were upgraded and now they are much clearer and easier to follow. Additionally, both the HUD and the pop-up are completely configurable; hence, the user can choose which stats are relevant and important to him and which stats should be hidden. Another positive feature is the instant appliance of the changes. As a result, personal optimisation of the HUD is much faster. Finally, there are "versus Hero" stats that show the user how certain opponent has played against him. This is very helpful if the opponent knows your way of playing too.
HM2 Analysis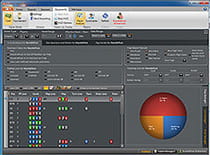 Naturally, very important feature of Holdem Manager 2 is the analysis of the information. This is another field in which Holdem Manager 2 made improvements and a huge step forward. In addition to the well-known reports and graphs, such as winnings or tournament summaries, players now have the chance to use the latest function called heat map report. The heat map is a very important upgrade because it is easy to understand and gives crucial information about starting hands coloured in various colours. The profit rates can be green if the win rate of that starting hand is good and strong red colour warns the player of high losses.
However, players have to bear in mind that in order to have the most relevant information they have to play numerous hands first. After several poker game sessions the heat map will not give the best results; if the player wants to find out where the problems in his way of playing lie he should play at least 100 poker hands for each hand combination first. The player should also expect that certain hands such as 94 offsuit will always remain negative because they will never be profitable in the long term.
HM2 Reports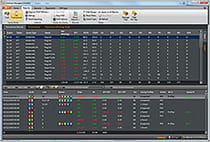 The possibilities that Holdem Manager 2 offers are almost endless when it comes to the various reports this software provides. You can safe your poker hands according to the length of the game-play, the stakes that were placed, the positions of the cards and much more. One interesting report is the one connected to the betting line and the action which simplifies the analysis of details when a certain hand is replayed. The hand replayer has always been important feature that helps players to understand and thoroughly analyse certain hands. This gives insight not only for the course of the poker hand, but also for the use of every single card.
Another useful report display is the All-In EV. The users of Holdem Manager are familiar with the EV graph; however, this graph is now upgraded and users of Holdem Manager 2 can find the reports for All-In hands by simply checking the EV. Green colour suggests positive outcomes, whereas red colour shows the losses. This is helpful because you can, for example, check all of your losing All-In hands and think twice the next time you consider making that move. All of these information show why the reports are inseparable part of Holdem Manager 2.
More New Features of HM2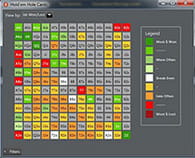 Several other new features of Holdem Manager 2 are the line analysis tool, the note caddy note viewer, street by street HUD support and the home screen that can be individually optimised with widgets; additionally, the software includes numerous video tutorials for customers, so they won't have any problems with personal optimisation of Holdem Manager 2. The line analysis tool helps you to make decisions with the knowledge it provides you for the opponent's way of playing. You can find out more about the betting lines and specific situations; this information can be very helpful if you know how to use it well.
Note caddy is another powerful feature of the HUD. Note caddys are auto generated player notes that allow players to replay actual hands and find out what triggered the notes. Street by street HUD is another amazing feature of Holdem Manager 2 that can be enabled or disabled by the user. This tool can be used only if the interface of the poker room is in English and only for poker rooms that support live tracking such as PokerStars and Winner Poker. With the help of street by street user can have a different HUD for each of the streets.
Free downloadHuge set of tools30 days trial period.
Holdem Manager 2 Addons/Apps
Customers who will buy Holdem Manager 2 will be able to use many interesting add-ons and applications. Even though these applications cost money and are not free of charge, I think that they are most definitely worth the price. For example, users can purchase table ninja, leak buster and note caddy premium and gain important insights that will help them in their games.
Customers who like playing on several tables must have the table ninja add on which is specially designed for multi-table players. The main feature of this app is the time-saving option that is extremely important to pros that make difficult poker decisions. Table ninja automatically opens tables, manages wait lists and computes bet sizes. Additionally, the sit-n-go registration can be managed by this useful add on as well as it can handle your time bank, provide hotkeys and etc. The player can save clicks and concentrate on the games, whereas all the other things will be covered by table ninja.
The add-on leak buster can be used for No Limit Holdem, Limit Holdem and Pot Limit Omaha. This is another interesting tool that helps players find their biggest leaks in their games. This application has access to your database, analysis and all of your stats. With the help of these information leak buster will guide you and show you how to fix your most common poker leaks. Even the best poker players have certain habits that often cost them a lot of money. However, now that we have leak buster, everything is better. This tool goes perfect with the tilt breaker, an add-on that has the mission to keep players from losing their concentration during game sessions. This management tool will prevent any losses due to tilt and fatigue because it will know when you usually start losing and it will end the game session at that particular time.
In addition, I have to mention the note caddy, an awesome application that takes notes for the player. Of course, these notes are nothing like simple notes connected to the games, but they are highly relevant notes based on poker hands. Note caddy helps players to understand what happened during some hands and it will take notes on significant behaviours. These notes can be checked at any given time. Finally, another important add-on is the table scanner that gives in-depth information about certain tables and players.
Holdem Manager 2 Prices and Payment Options
Players who like to purchase Holdem Manager 2 can choose between two different packages. The first version is obviously the Pro version that costs $99.99 and supports all limits, games and stakes. According to the company, this is the most popular and commonly bought version of the tool. The second version is the Small Stakes that can be bought for $59.99. Nevertheless, this version supports only small stakes that are good for casual players only. For example, players can take part in No Limit Holdem cash games up to NL50 and Limit Holdem NL100. The maximum tournament entry fee can be up to $22. However, besides these two Holdem Manager 2 versions, there is the Holdem Manager 2 + Omaha package, called Pro Combo 2. Users can buy this powerful package for $149.99. If customer already own one of these products, they can also upgrade it for additional charges.
Since we mentioned the prices of Holdem Manager 2, it is understandable to list the possible ways of buying the tool. There are various payment options that poker players can use in order to buy Holdem Manager 2. Some of the most popular credit and debit cards, such as Visa, MasterCard and American Express are accepted. Additionally, customers can choose to use two of the most commonly used e-wallet PayPal and Skrill. The purchasing process is simple and fast; hence, poker players can own the software within several minutes after they decide to buy it.

Holdem Manager 2 Conclusion
To sum up, Holdem Manager 2 is one fantastic software and a must have for all poker players out there. This tool not only has all of the cool and important features of Holdem Manager, but it also offers many new and helpful ones. The small issues with Holdem Manager were fixed and almost everything else was improved; as a result, poker players can now gain crucial information about their games thanks to Holdem Manager 2. The main strength of this software is the fast and smooth database that increases the ability of the application to analyse the information as well as the upgraded HUD that has some cool new features. On the same level as Poker Tracker 4, Holdem Manager 2 is one of the best poker tracking tools on the market. It has a reasonable price and high functionality that make Holdem Manager 2 one affordable and desired tool.
Test Holdem Manager 2 now and download it for a free 30 days test period!