Why PT4?

Best Tracking Tool

Top Performance

Configurable HUD

Test it 30 days!
Tracking Tool:
Poker Tracker 4 is the leading statistic tool for all poker players. You can analyze all played hands and get full information about other players right on the table with the free configurable Heads Up Display (HUD). Its a must need for every winning player!
| Pokertracker 4 Information |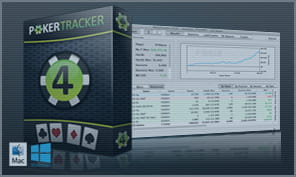 PokerTracker 4 Review
Poker players know that if they want to earn some nice cash playing the game, being familiar with poker is not enough. They need a lot of practice, knowledge of strategies and good playing skills in order to win big so poker software that will calculate their moves, monitor their game play as well as make suggestions for improvements is more than welcome. This is where Pokertracker 4 comes in handy. This tracking and analysis software is compatible with almost all online poker websites and it is the best choice for serious poker players that want to improve their game and keep track of their results.
Download the new PokerTracker 4 now for free and try it with full functionability for a whole 30 days!
PokerTracker 4 Software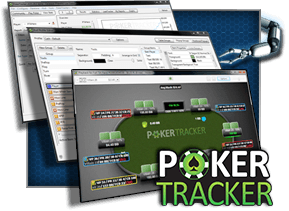 Before we go into details on the various helpful functions of Pokertracker 4 and explain how they can help poker players, we want to explain how this tracking and analysis poker software works and give our visitors an insight into its basic mode of operation.
Pokertracker 4 works by accumulating a database of information on all your poker hands played on various online poker websites. Poker hands are stored in special files so called poker hand histories. In addition, not only it provides an in-depth analysis of your wins and losses in various online gaming sessions, but the software also gives you a detailed view of breakdowns with each opponent you have played with. The entire data stored is processed statistically. However, Pokertracker 4 does a lot more. It analyses your game play and over time and use you will see the leaks in your game so you can improve your actions when playing poker and make profit. Pokertracker 4 uses the statistics to draw conclusions about the gambling behavior in different game situations, for example, how may hands your opponent has played, did he rise often etc. In combination with a poker heads-up manager, also known as HUD, Pokertracker 4 can also provide plenty of statistics that show the statistical profile of each opponent and his basic tendencies. There is a large number of different statistics which can be difficult to comprehend, especially for beginners, therefore, it is advisable to start only with the most important statistics.
Analyze all opponentsFind your biggest leaksTest it now for 30 days!.
The installation and setup of Pokertracker 4 software is very easy. First you will need an already existing PostgreSQL database server set on default which can is also set up quickly and easily by following the step by step instructions on Pokertracker website. Then you needed to configure PostgreSQL in Pokertracker 4 and create your first database. You can also connect to an existing database. Next you need to select online poker sites and configure hand histories. Afterwards, you can start using Pokertracker 4. To import data, you can use the auto import tool and pick a poker room from the list or you can use the manual import tool instead. The auto import tool will store all the necessary data independently and to get started click on the auto-import button. This should be done before the start of the game. With the manual import tool you can import other hand histories by yourself. An additional advantage of this database is that it can be used with other tools; the best example of this is the so-called table selection tools, which can find the tables with the worst opponents.
How Pokertracker Helps Me with My Poker Game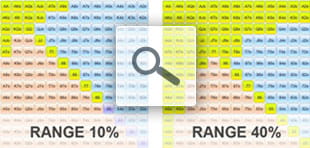 One of the most important features of Pokertracker is the HUD or the Heads Up Display. This statistics display solution laid directly on your poker table gives you all the information you need such as the number of hands played, the win percentage, the entire aggression factor and all the other statistics you want to add to the HUD. In addition, the stats are fully customizable. With the HUD you get detailed statistics about your game play as well as the game play of your opponents. You can also see the winning cards at a showdown and you can see the number of your wins and losses in a gamming session including those of your opponents. For these reasons the HUD is very important and it can help you analyze and track both your own hands and the hands of your opponents. By telling you where and when you have lost a hand, you can review it and find the leaks in your game so later on you can eliminate them and focus on making profit. Moreover, the HUD allows you to improve your decision making and your entire game play. To enable the HUD open Pokertracker 4 and it will automatically start to import hand histories as you are playing poker. The HUD will be automatically laid on your poker table. You can also configure the HUD to suit your needs. The stats the HUD displays are defined by creating a HUD profile or you can use of the predefined profiles that come with Pokertracker 4. The later type of HUD profiles has a lot of default statistics. They are the industry standards and are used by many poker players from all parts of the globe. However, it is very important that you clearly understand how these statistics work and function in order to increase your use of the HUD.
The HUD is comprised of a number of common statistics found in most HUD groups and they show a picture of how your opponents play. To be able to interpret the information from the stats you should familiarize yourself with the basic stat terms commonly found on the HUD. One stat, for example, shows the probability of an action taking place by measuring the frequency of past actions. Some of the HUB stats include VPIP or VP which shows a statistical percentage of how often a player voluntarily places money in the pot pre-flop as well as PFR (PR) which shows a statistical percentage of how frequently the player raises pre-flop. 3B refers to how often your opponent re-raises before the flop. F3 stands for how frequently your opponent folds to three-bets. Post-flop stats include AG, WTSD%, CB, 2B, FC and F2. AG is the aggression factor and tells you how aggressive your opponent plays. WTSD% stands for how frequently your opponent goes to showdown after he sees the flop. CB refers to how often a player continuation bets the flop in percentage, while 2B refers to the frequency of your opponent second barrels as the pre-flop raiser. The final two HUD stats, FC and F2, refer to how often the player folds to flop continuation bets and how frequently your opponent folds to a second barrel in percentage, of course. Some other stats available on the HUD include Name or player's name in short and these are the first five numbers, letters or symbols of the name of your opponent. Stack Size is the size of your opponent's stack in big blinds. This is calculated at the end of the next hand. The Hands stat shows the number of hands you have in your database for your opponent.
Test the new PokerTracker 4 right now and figure out the playing style of all your opponents!
When using HUD information from the stats, having an accurate and enough sample size is very important. With enough sample size you will have more information about and clearer picture of the game play of your opponent. In addition, the HUD information can be very misleading if it is not accurate. For instance, Hold'em poker is a poker game packed with a lot of variance and short term stats for the game may vary considerably. Probably the biggest mistake that can be made is treating the sample size of the stats of a player as a gospel. This is particularly common if you have a small sample size. Eventually you will find out that your opponent plays in a completely different manner. Therefore, it is best if you restrict yourself from drawing advanced conclusions about how your opponent plays until you gather enough information from the hands. This 'enough info from the hands' varies from one stat to another. For example, info from 100 hands may be enough to draw conclusions from the VPIP stat, but it may not be enough to understand WTSD or the three-bet stats. HUD stats are tools and many poker pros rely on them during their game play. They paint an opponent's play on a board as graphs and they should not be overlooked. Therefore, having enough sample size from the HUD gives you clearer picture of your opponent's play. All in all, just like everything in poker, the biggest the sample size, the better.
Pokertracker Features HUD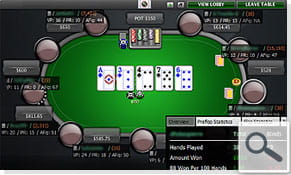 As already explained above, the main feature of Pokertracker is the dynamic Heads Up Display (HUD). The HUD tracks each and every move of your opponent and it can convert that information into easy to read and understand stats. It also displays the stat information next to the name of your opponent in real time right on the playing poker table. The stats give you enough information about the poker play of your opponent such as how aggressive he is while playing, when he usually rises, how often he goes for a showdown as well as plenty of other info. Therefore, understanding what the stats stand for can make a huge difference in your game as well. Stats are tools almost all poker pros use to a certain extent, but only a few players use the HUD to its full potential. If you master the HUD you can enjoy a lot of benefits.
Hand Replayer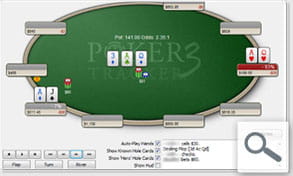 After a poker game, you can see the statistics of your game play by using the Hand Replayer. This feature gives you a replay of your hands so you can see your wins and losses. The Hand Replayer analyses your hands into details so later on you can make a calculated decision and improve your game. To enhance your post- session analysis, the Hand Replayer offers a lot of customization. Particular actions can be stopped or rewound as you desire. With this feature you have all the time in the world to think about possible hand choices based on the decisions of your opponents on a particular hand and you can calculate the expected values ​​of your possible choices carefully. To watch a replay of your hands at a particular time, simply right- click any hand from the full report and go to Replay Hand or to Replay All Hands in Report.
Cash Game and Tournament Statistics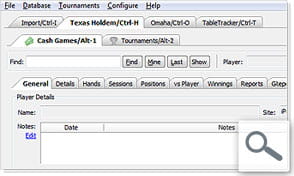 Another useful feature of Pokertracker is the ability to provide statistics on cash games and tournaments. Even though things are tight at the beginning of a tournament or a cash game, the action heats up in the later stages and you can gather a lot of statistical information by the end of a cash game or tournament. For example, if you come to this stage in a tournament you can use the statistics on tournament winnings to help you make the right decision. Moreover, if you play with one opponent on regular basis at the same tournament the tournament stats will show you how good his win rate is or his return on investment (ROI) and whether or not he is a competent poker player. You can earn plenty of poker chips easily from opponents that have higher negative return to investment rate.
Table Search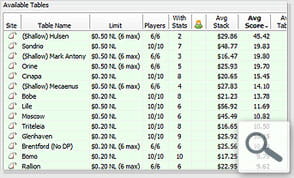 Table Search from Pokertracker and well as the TableTracker excellent add-on service are table selection tools that can help you find the best and most profitable poker tables so you can increase your winnings. Pokertracker itself is continually tracking the most popular poker rooms and networks and is monitoring who is playing on the tables in which games as well as which sites attract a lot of players. The Table Search tool gets the info from the cloud and connects it with the info you have in your own personal database in order to show stats for each opponent at a poker table. All selected tables and players are listed on an easy to understand layout. On it you can see average stats of the player and table as well as highlights for selected players so that you can easily and quickly pick a table to sit at.
Poker Player Statistics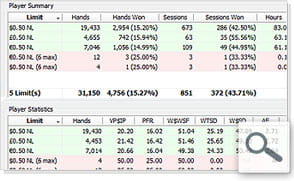 The Player Statistics feature of Pokertracker is also very helpful and it can accurately analyze every nuance of your game. The tool gathers and analyses a lot of useful info from the poker hands of your opponents and this can help you facilitate you play against your opponents. You will find out about your opponent's aggression factor, his strategy moves on particular hands and similar opponent stats. The tool not only analyses the game play of your opponents, but it also provides statistical information about your game play based on your hand histories. For example, it can tell you what starting hands you have the most problems and so on. However, always have in mind that the accuracy of the statements from the player statistics greatly depends on the sample size of the hand histories. The more sample size of hand histories, the better and more accurate player statistics.
Graphs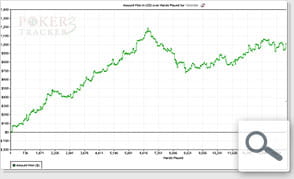 Pokertracker displays stats information in various graphs and some graphs include the global game statistics graph, the global player scatter graph, the global player statistics graph, personal results graph and so on. The graphs can give you an insight into the long- term development of your wins and losses. If you are on a current losing streak a particular graph can give you a clear view of your ups and downs and you can review the part when you were in a winning streak and compare the moves you have made then with those you are currently making. It can also show you specific situations where you have made a wrong decision and a lot more. When viewing graphs or your personal results it is important to be able to admit the mistakes you have made and to be willing to work on improving your own game seriously.
Pokertracker Prices and Payment Options
Pokertracker 4 is comprised of two poker software products, namely Hold'em and Omaha, both integrated into one app. They both come with a free 30 day trial period which is recommended to all poker players before they decide to buy the product. To use the free trial period, download Pokertracker 4 and install it. Afterwards, pick one of two free trial versions, either Hold'em or Omaha, and click on the Begin 30 Day- Trial button. If you are satisfied with the product after the free trial period, there are two versions available for buying. Firstly, there is a Small Stakes version suitable for hands between $0.25 and $0.50 for Omaha cash games or No Limit or Pot Limit Hold'em as well as a for limits between $0.50 and $1 for Omaha or Hold'em cash games including up to $22 limit for buy-in tournaments and Sit'N' Gos. The Small Stakes version for either Hold'em or Omaha costs $59.99, while if you want to get both versions of poker it will cost you $99.99. Secondly, there is a full version of Pokertracker 4 for both Hold'em and Omaha and it costs $99.99 for each. If you want to buy both, it will cost you $159.99. With the full version of the poker software you can import hands from games at any stakes. The registration code you buy is valid on two PCs. To get hold of the 30 day trial period or to purchase Pokertracker 4, visit Pokertracker official website. Accepted payment methods include Visa, MasterCard, Discover, American Express, PayPal and Neteller.

Pokertracker Add-ons
There are a couple of add-on services that can be integrated into Pokertracker and upgrade the software. One such service is TableTracker which is an integrated table selection tool that puts all multi- tabling players on the spot. Depending on your supported limits, it might cost you between $9.99 and $34.99 per month, but it will be the best investment in your life. The tool can significantly increase your win rate. TableTracker can help you find poker tables of your selected limits where bad players are sitting in a matter of seconds so you can join in and beat them.
Pokertracker for Free
For professional poker players buying this tracking and analysis poker software is one of the most important investments in their poker career. Therefore, it is no surprise that Pokertracker 4 is usually purchased instead of earned via free license keys. For poker players that want to use Pokertracker 4 for free, besides the 30-day trial version, there is usually a 60-day trial period and the license key can be perhaps earned as some kind of bonus at online poker rooms like Party Poker for example. To get the key players will probably have to make a deposit of specific amount and/ or gather a certain number of player points. However, instead of going through this process it is best to buy Pokertracker 4 right from the beginning because it is very important for poker players nowadays. Its value is simple irreplaceable and if you seriously want to improve your game, buying the software is definitely the best option.
Download Pokertracker 4 here and test it fully without charging!
PokerTracker 4 Conclusion
If you are a poker player that wants to become professional in the game, you should definitely consider buying Pokertracker 4. This tracking and analysis program compatible with many online poker sites will help you improve your game and track your results. It will also help you get a clearer image of your opponents and how they are playing. The stat information from the HUD analyses hand histories and presents them in an easy-to-read graphs where you can see your ups and downs during a particular gaming session including those of your opponents. In addition, thanks to this data you will easily find and eliminate leaks in your game and improve your decision making skills. You will also find good and weak poker players and suitable tables to sit at. Having all this in mind, Pokertrack 4 can make a revolution in your poker play and it can be purchased for a cheap prize. Such small investment can truly change the way you play poker provided that you well-understand how to use Pokertracker 4 and how to read stats info. All in all, it is great software highly recommended to all poker pros.